U11 Pathway
---
The U11 Pathway is a progressive, learn-to-play teaching curriculum. This pathway is an important component in the transition from the U9 Pathway and serves as preparation into the U13 Pathway. The U11 Pathway consists of four phases of instruction, designed for players graduating from U9 hockey and for entry-level hockey players who may start playing hockey at this age level. The U11 Pathway curriculum introduces, develops and refines the skills of skating, passing, puck control and shooting in a progressive, step-by-step manner.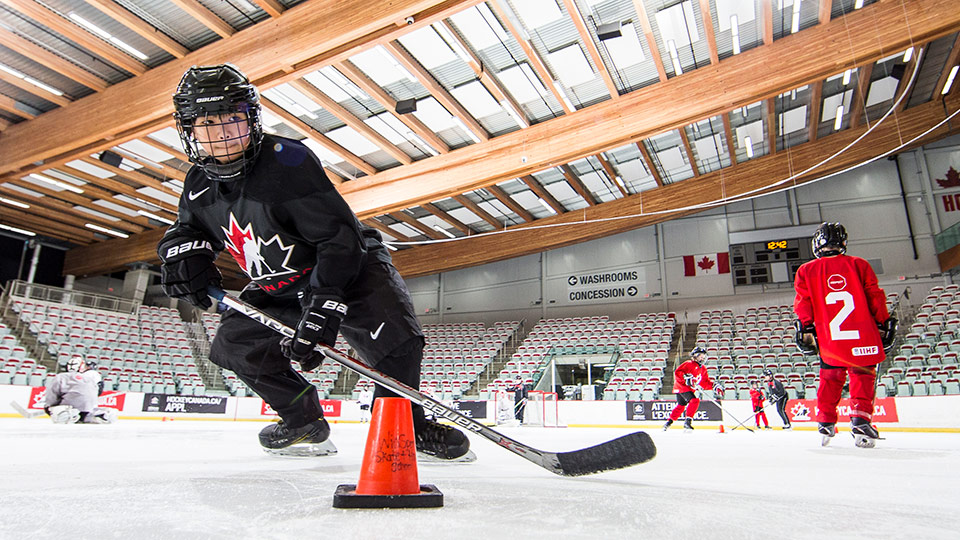 This is to be viewed as an opportunity for young players to develop and refine fundamental movement skills (skating, turning, acceleration), manipulation skills (shooting, puck control, passing) and overall motor skills (balance, coordination, agility) in a fun and safe environment, promoting skill development through self-confidence. The main goal of the U11 Pathway is to continue to have fun while developing skills. When players continue on a positive note, they really enjoy the game and will go on to have fun playing hockey for many years.
The U11 Player Pathway provides an environment that helps all girls and boys playing hockey at the U11 age level (nine and 10 years old) to realize their full potential. Hockey Canada strongly believes in order for players to truly fulfill their potential and to be the best they can be, the players' needs should be at the forefront of programming.
The primary focus of the youth hockey system is to develop a lifelong passion for sport, develop important life skills through hockey, and provide young girls and boys exposure to a development system that is progressive in nature and meets their needs based on age-specific and skill-appropriate programming.
Hockey Edmonton will be working with member associations to ensure an efficient and effective delivery of the U11 Pathway. This Pathway should further support player and coach development within Edmonton, AB. With this in mind, the following items outline important framework that will lead to a positive experience for all players, parents, coaches and administrators:


U11 Resources:
Skills Inventories & Checklists: